Correlations are oft interpreted as evidence for causation; this is oft falsified; do causal graphs explain why this is so common, because the number of possible indirect paths greatly exceeds the direct paths necessary for useful manipulation?
It is widely understood that statistical correlation between two variables ≠ causation. Despite this admonition, people are overconfident in claiming correlations to support favored causal interpretations and are surprised by the results of randomized experiments, suggesting that they are biased & systematically underestimate the prevalence of confounds / common-causation. I speculate that in realistic causal networks or DAGs, the number of possible correlations grows faster than the number of possible causal relationships. So confounds really are that common, and since people do not think in realistic DAGs but toy models, the imbalance also explains overconfidence.
I have noticed I seem to be unusually willing to bite the correlation ≠ causation bullet, and I think it's due to an idea I had some time ago about the nature of reality. It ties into the cumulative evidence from meta-analysis and replication initiatives and the history of randomized experiments about the Replication crisis, correlations' ability to predict randomized experiments in practice, behavioral genetics results from the genome sequencing era, and countless failed social engineering attempts.
Here is how I currently understand the relationship between correlation and causality, and the collective findings of meta-scientific research:
There is nothing that plays worse in our culture than seeming to be the stodgy defender of old ideas, no matter how true those ideas may be. Luckily, at this point the orthodoxy of the academic economists is very much a minority position among intellectuals in general; one can seem to be a courageous maverick, boldly challenging the powers that be, by reciting the contents of a standard textbook. It has worked for me!
To go on a tangent: why is it so important that we hammer this in?
The unreliability is bad enough, but I'm also worried that the knowledge correlation ≠ causation, one of the core ideas of the scientific method and fundamental to fields like modern medicine, is going underappreciated and is being abandoned by meta-contrarians due to its inconvenience. Pointing it out is "nothing helpful" or "meaningless", and justified skepticism is actually just "a dumb-ass thing to say", a "statistical cliché that closes threads and ends debates, the freshman platitude turned final shutdown" often used by "party poopers" "Internet blowhards" to serve an "agenda" & is sometimes "a dog whistle"; in practice, such people seem to go well beyond the XKCD comic and proceed to take any correlations they like as strong evidence for causation, and any disagreement is an unsophisticated middlebrow dismissal & denialism.
So it's unsurprising that one so often runs into researchers for whom indeed correlation=causation (we certainly wouldn't want to be freshmen or Internet blowhards, would we?). It is common to use causal language and make recommendations (Prasad et al 2013), but even if they don't, you can be sure to see them confidently talking causally to other researchers or journalists or officials. (I've noticed this sort of constant motte-and-bailey slide from vague mentions of how results are correlative tucked away at the end of the paper to freely dispensing advice for policymakers about how their research proves X should be implemented is particularly common in medicine, sociology, and education.)
Bandying phrases with meta-contrarians won't help much here; I agree with them that correlation ought to be some evidence for causation. eg if I suspect that A → B, and I collect data and establish beyond doubt that A&B correlates r = 0.7, surely this observation, which is consistent with my theory, should boost my confidence in my theory, just as an observation like r = 0.0001 would trouble me greatly. But how much…?
As it is, it seems we fall readily into intellectual traps of our own making. When you believe every correlation adds support to your causal theory, you just get more and more wrong as you collect more data.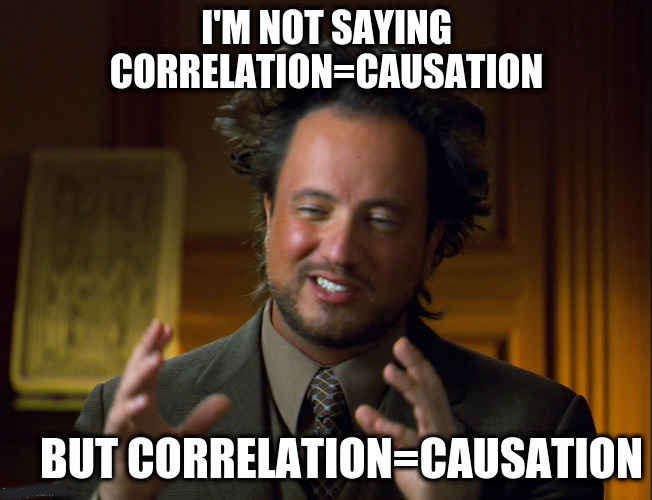 Now assuming the foregoing to be right (which I'm not sure about; in particular, I'm dubious that correlations in causal nets really do increase much faster than causal relations do), what's the psychology of this? I see a few major ways that people might be incorrectly reasoning when they overestimate the evidence given by a correlation:
they might be aware of the imbalance between correlations and causation, but underestimate how much more common correlation becomes compared to causation.

This could be shown by giving causal diagrams and seeing how elicited probability changes with the size of the diagrams: if the probability is constant, then the subjects would seem to be considering the relationship in isolation and ignoring the context.

It might be remediable by showing a network and jarring people out of a simplistic comparison approach.

they might not be reasoning in a causal-net framework at all, but starting from the naive 33% base-rate you get when you treat all 3 kinds of causal relationships equally.

This could be shown by eliciting estimates and seeing whether the estimates tend to look like base rates of 33% and modifications thereof.

Sterner measures might be needed: could we draw causal nets with not just arrows showing influence but also another kind of arrow showing correlations? For example, the arrows could be drawn in black, inverse correlations drawn in red, and regular correlations drawn in green. The picture would be rather messy, but simply by comparing how few black arrows there are to how many green and red ones, it might visually make the case that correlation is much more common than causation.

alternately, they may really be reasoning causally and suffer from a truly deep & persistent cognitive illusion that when people say 'correlation' it's really a kind of causation and don't understand the technical meaning of 'correlation' in the first place (which is not as unlikely as it may sound, given examples like David Hestenes's demonstration of the persistence of Aristotelian folk-physics in physics students as all they had learned was guessing passwords; on the test used, see eg. Halloun & Hestenes1985 & Hestenes et al 1992); in which cause it's not surprising that if they think they've been told a relationship is 'causation', then they'll think the relationship is causation. Ilya remarks:

Pearl has this hypothesis that a lot of probabilistic fallacies/paradoxes/biases are due to the fact that causal and not probabilistic relationships are what our brain natively thinks about. So eg. Simpson's paradox is surprising because we intuitively think of a conditional distribution (where conditioning can change anything!) as a kind of "interventional distribution" (no Simpson's type reversal under interventions: "Understanding Simpson's Paradox", Pearl2014 [see also Pearl's comments on Nielsen's blog)).

This hypothesis would claim that people who haven't looked into the math just interpret statements about conditional probabilities as about "interventional probabilities" (or whatever their intuitive analogue of a causal thing is).

This might be testable by trying to identify simple examples where the two approaches diverge, similar to Hestenes's quiz for diagnosing belief in folk-physics.
---
Although this may have been suggested:

I used to read a magazine called Milo that covered a bunch of different strength sports. I ended my subscription after reading an article in which an entirely serious author wrote about how he noticed that shortly after he started hearing birds singing in the morning, plants started to grow. His conclusion was that birdsong made plants grow. If I remember correctly, he then concluded that it was the vibrations in the birdsong that made the plants grow, therefore vibrations were good for strength, therefore you could make your muscles grow through being exposed to certain types of vibrations, i.e. birdsong. It was my favorite article of all time, just for the way the guy started out so absurdly wrong and just kept digging.

I used to read old weight training books. In one of them the author proudly recalled how his secretary had asked him for advice on how to lose weight. This guy went around studying all the secretaries and noticed that the thin ones sat more upright compared to the fat ones. He then recommended to his secretary that she sit more upright, and if she did this she would lose weight. What I loved most about that whole story was that the guy was so proud of his analysis and conclusion that he made it an entire chapter of his book, and that no one in the entire publishing chain from the writer to the editor to the proofreader to the librarian who put the book on the shelves noticed any problems with any of it.

↩︎

Slate provides a nice example from Pearson's The Grammar of Science (pg407):

All causation as we have defined it is correlation, but the converse is not necessarily true, i.e. where we find correlation we cannot always predict causation. In a mixed African population of Kaffirs and Europeans, the former may be more subject to smallpox, yet it would be useless to assert darkness of skin (and not absence of vaccination) as a cause.

↩︎

Like temporal order or biological plausibility—for example, in medicine you can generally rule out some of the relationships this way: if you find a correlation between taking supertetrohydracyline™ and then later one's depression (or flu symptoms or…) getting better, what does this mean? We have 3 general patterns: A → B, A ← B, and A ← C → B. It seems unlikely that #2 (A ← B), 'curing depression causes taking supertetrohydracyline™ previously in time', is true since that requires time travel; we can rule that one out. So, the causal relationship is probably either #1 (A → B) direct causation (supertetrohydracyline™ cures depression), or #3 (A ← C → B), a common cause and confounding, in which some third variable is responsible for both outcomes (like 'doctors prescribe supertetrohydracyline™ to patients who are getting better' some process leads to differential treatment like regression to the mean or doctors prescribing supertetrohydracyline™ to patients they think have the best prognosis). We may not know which, but at least the temporal order did let us rule out one of the 3 possibilities, which is a start.↩︎

I borrow this phrase from the paper "Looking to the 21st century: have we learned from our mistakes, or are we doomed to compound them?", Shapiro2004:

In 1968, when I attended a course in epidemiology 101, Dick Monson was fond of pointing out that when it comes to relative risk estimates, epidemiologists are not intellectually superior to apes. Like them, we can count only three numbers: 1, 2 and BIG (I am indebted to Allen Mitchell for Figure 7). In adequately designed studies we can be reasonably confident about BIG relative risks, sometimes; we can be only guardedly confident about relative risk estimates of the order of 2.0, occasionally; we can hardly ever be confident about estimates of less than 2.0, and when estimates are much below 2.0, we are quite simply out of business. Epidemiologists have only primitive tools, which for small relative risks are too crude to enable us to distinguish between bias, confounding and causation.

…To illustrate that point, I have to allude to a problem that is usually avoided because to mention it in public is considered impolite: I refer to bias (unconscious, to be sure, but bias all the same) on the part of the investigator. And in order not to obscure the issue by considering studies of questionable quality, I have chosen the example of putatively causal (or preventive) associations published by the Nurses Health Study (NHS). For that study, the investigators have repeatedly claimed that their methods are almost perfect. Over the years, the NHS investigators have published a torrent of papers and Figure 8 gives an entirely fictitious but nonetheless valid distribution of the relative risk estimates derived from them (for relative risk estimates of less than unity, assume the inverse values). The overwhelming majority of the estimates have been less than 2 and mostly less than 1.5, and the great majority have been interpreted as causal (or preventive). Well, perhaps they are and perhaps they are not: we cannot tell. But, perhaps as a matter of quasi-religious faith, the investigators have to believe that the small risk increments they have observed can be interpreted and that they can be interpreted as causal (or preventive). Otherwise they can hardly justify their own existence. They have no choice but to ignore Feinstein's dictum [Several years ago, Alvan Feinstein made the point that if some scientific fallacy is demonstrated and if it cannot be rebutted, a convenient way around the problem is simply to pretend that it does not exist and to ignore it.]

↩︎

Apropos of Ending Medical Reversal, estimating a ~40% error rate in medical interventions.↩︎