Creative writing by OpenAI's GPT-3 model, demonstrating poetry, dialogue, puns, literary parodies, and storytelling. Plus advice on effective GPT-3 prompt programming & avoiding common errors.
I continue my AI poetry generation experiments with OpenAI's2020 GPT-3, which is 116× larger, and much more powerful, than the 2019 GPT-2. GPT-3, however, is not merely a quantitative tweak yielding "GPT-2 but better"—it is qualitatively different, exhibiting eerie runtime learning capabilities allowing even the raw model, with zero finetuning, to "meta-learn" many textual tasks purely by example or instruction. One does not train or program GPT-3 in a normal way, but one engages in dialogue and writes prompts to teach GPT-3 what one wants.

Experimenting through the OpenAI Beta API in June 2020, I find that GPT-3 does not just match my finetuned GPT-2-1.5b-poetry for poem-writing quality, but exceeds it, while being versatile in handling poetry, Tom Swifty puns, science fiction, dialogue like Turing's Turing-test dialogue, literary style parodies… As the pièce de résistance, I recreate Stanislaw Lem's Cyberiad's "Trurl's Electronic Bard" poetry using GPT-3. (Along the way, I document instances of how the BPE text encoding unnecessarily damages GPT-3's performance on a variety of tasks, how to best elicit the highest-quality responses, common errors people make in using GPT-3, and test out GPT-3's improvements in NN weak points like logic or commonsense knowledge.)

GPT-3's samples are not just close to human level: they are creative, witty, deep, meta, and often beautiful. They demonstrate an ability to handle abstractions, like style parodies, I have not seen in GPT-2 at all. Chatting with GPT-3 feels uncannily like chatting with a human. I was impressed by the results reported in the GPT-3 paper, and after spending a week trying it out, I remain impressed.

This page records GPT-3 samples I generated in my explorations, and thoughts on how to use GPT-3 and its remaining weaknesses. I hope you enjoy them even a tenth as much as I enjoyed testing GPT-3 and watching the completions scroll across my screen.
The latest and greatest neural network for unrestricted natural language generation is OpenAI's GPT-3. GPT-3 is like GPT-1 and the GPT-2 I've used extensively before1—only much more so, and then going beyond them in a fascinating new way.
Scaling works: quantity is a quality all its own. The scaling of GPT-2-1.5b by 116× to GPT-3-175b has worked surprisingly well and unlocked remarkable flexibility in the form of meta-learning, where GPT-3 can infer new patterns or tasks and follow instructions purely from text fed into it. What can we do with GPT-3? Here, we're all about having fun while probing GPT-3's abilities for creative writing tasks, primarily (but far from limited to) poetry. Fortunately, OpenAI granted me access to their Beta API service which provides a hosted GPT-3 model, letting me spend a great deal of time interacting with GPT-3 and writing things. Naturally, I'd like to write poetry with it: but GPT-3 is too big to finetune like I did GPT-2, and OA doesn't (yet) support any kind of training through their API. Must we content ourselves with mediocre generic poetry, at best, deprived of finetuning directly on chosen poetry corpuses or authors we might like to parody? How much does GPT-3 improve and what can it do?
Turns out: a lot! Below, I walk through first impressions of using GPT-3, and countless samples. In the latest twist on Moravec's paradox, GPT-3 still struggles with commonsense reasoning & factual knowledge of the sort a human finds effortless after childhood, but handles well things like satire & fiction writing & poetry, which we humans find so difficult & impressive even as adults. In addition to the Cyberiad, I'd personally highlight the Navy Seal & Harry Potter parodies, the Devil's Dictionary of Science/Academia, "Uber Poem", "The Universe Is a Glitch" poem (with AI-generated rock music version), & "Where the Sidewalk Ends".
The GPT-3 paper includes evaluation of zero-shot/few-shot performance across a wide range of tasks, but I fear that unless one is familiar with the (deadly dull) benchmarks in question, it won't be impressive. You can skip to the appendix for more example like its poems, or browse the random samples.
The original OpenAI Beta API homepage includes many striking examples of GPT-3 capabilities ranging from chatbots to question-based Wikipedia search to legal discovery to homework grading to translation; I'd highlight AI Dungeon's Dragon model (example before the March 2021 meltdown), and "Spreadsheets"/"Natural Language Shell"/"Code Completion"2. Andrew Mayne describes using GPT-3 to generate book recommendation lists & read interactive stories & engage in conversations with historical figures like Ada Lovelace3, summarize texts for elementary school children (also available as a service now, Simplify.so) or as a writing assistant, or summarize AI Dungeon/movies in emoji (Matrix: "🤖🤐"; Hunger Games: "🏹🥊🌽🏆"; see also Tsimpoukelli et al 2021), convert screenplay ↔︎ story, summarize/write emails, translate from legalize, and rewrite HTML. Paras Chopra finds that GPT-3 knows enough Wikipedia & other URLs that the basic Q&A behavior can be augmented to include a 'source' URL, and so one can make a knowledge base 'search engine' with clickable links for any assertion (ie. the user can type in "What year was Richard Dawkin's The Selfish Gene published?" and GPT-3 will return a tuple like ("The Selfish Gene was published in 1976","https://en.wikipedia.org/wiki/The_Selfish_Gene") which can be parsed & presented as a search engine). Andreas Stuhlmüller explored using it to create suggestions for predicting on by breaking down high-level forecasting questions. Hendrycks et al 2020 tests few-shot GPT-3 on common moral reasoning problems, and while it doesn't do nearly as well as a finetuned ALBERT overall, interestingly, its performance degrades the least on the problems constructed to be hardest.
Ryan North experimented with Crunchyroll anime, Star Trek: The Next Generation, & Seinfeld plot summaries. Max Woolf has a repo of GPT-3 example prompts & various completions such as the original GPT-2 "unicorn" article, Revenge of the Sith, Stack Overflow Python questions, and his own tweets (note that many samples are bad because the prompts & hyperparameters are often deliberately bad, eg. the temperature=0 samples, to demonstrate the large effect of poorly-chosen settings as a warning). Janelle Shan experimented with weird dog descriptions to accompany deformed GAN-dog samples, and 10,000-year nuclear waste warnings based on the famous 1993 Sandia report on long-term nuclear waste warning messages for the Waste Isolation Pilot Plant. Summers-Stay tried imitating Neil Gaiman & Terry Pratchett short stories with excellent results. Arram Sabetti has done "songs, stories, press releases, guitar tabs, interviews, essays, and technical manuals", with his Elon Musk Dr. Seuss poems a particular highlight. Salahuddin got great results imitating Pablo Neruda's poetry, as did Brundage with Walt Whitman. Paul Bellow (LitRPG) experiments with RPG backstory generation. Merzmensch Kosmopol enjoyed generating love letters written by a toaster. James Yu co-wrote a SF Singularity short story with GPT-3, featuring regular meta sidenotes where he & GPT-3 debate the story in-character; it was exceeded in popularity by Pamela Mishkin's "Nothing Breaks Like A.I. Heart" which went full Choose-Your-Own-Adventure. Daniel Bigham plays what he dubs "19 degrees of Kevin Bacon" which links Mongolia to (eventually) Kevin Bacon. Alexander Reben prompted for contemporary art/sculpture descriptions, and physically created some of the ones he liked best using a variety of mediums like matchsticks, toilet plungers, keys, collage, etc. Tomer Ullman prompted GPT-3 for new philosophy thought experiments. And /r/aigreentext stems from the serendipitous discovery that GPT-3 is amazingly good at imitating 4chan-style "green text" stories & that the OA Playground interface colors generated text green, so screenshots of real & prompted green text stories look similar.
Harley Turan found that, somehow, GPT-3 can associate plausible color hex codes with specific emoji (apparently language models can learn color from language, much like blind humans do). Even more perplexingly, Sharif Shameem discovered that GPT-3 could write JSX (a Javascript+CSS hybrid) according to a specification like "5 buttons, each with a random color and number between 1–10" or increase/decrease a balance in React or a very simple to-do list and it would often work, or require relatively minor fixes. He also demonstrated a divide-and-conquer approach to making GPT-3 'control' a web browser. GPT-3 can also write some simple SVG shapes or SVG/Chart.js bar graphs, do text→LaTeX and SQL queries, and match k-NN & do regression on toy datasets. While I don't think programmers need worry about unemployment (NNs will be a complement until they are so good they are a substitute), the code demos are impressive in illustrating just how diverse the skills created by pretraining on the Internet can be. Particularly intriguing in terms of code generation is its ability to write regexps from English descriptions, and Jordan Singer's Figma plugin which apparently creates a new Figma layout DSL & few-shot teaches it to GPT-3.
(I'd also highlight GPT-3's version of the famous GPT-2 recycling rant, an attempt at "Epic Rap Battles of History", GPT-3 playing 200-word tabletop RPGs with itself, the Serendipity recommendation engine which asks GPT-3 for movie/book recommendations (cf. Ganguli et al 2022), and Lawder's food label ingredient summarizer.)
One underexplored area of GPT-3 is using its "search" API, which as the name indicates, takes a text prompt (the query) and searches a large set of possible results, and returns the 'most similar' one, in a highly abstract sense; Andrew Mayne demonstrates that it's much more than a simple keyword search engine by doing things like searching for abstract movie plots.4
For my main discussion of why GPT-3 works and its implications, see "On GPT-3: Meta-Learning, Scaling, Implications, And Deep Theory" (see also Backstop). Below is the summary:
GPT-3, announced by OpenAI in May 2020, was the largest neural network ever trained, by over an order of magnitude. Trained on Internet text data, it is the successor to GPT-2, which surprised everyone by its natural language understanding & generation ability. GPT-3 is even more surprising in that this vast increase in size did not run into diminishing returns, as many expected, but the benefits of scale continued to happen as forecasted by OpenAI. These benefits were not merely learning more facts & text than GPT-2, but qualitatively distinct & surprising in showing meta-learning: while GPT-2 learned how to do common natural language tasks like text summarization, GPT-3 instead learned how to follow directions and learn new tasks from a few examples. (As a result, GPT-3 outputs & interaction are more fascinating & human-like than GPT-2.)
While the immediate applications of GPT-3, like my poetry or humor writings, are nice, the short-term implications of GPT-3 are much more important.
First, while GPT-3 is expensive by conventional DL standards, it is cheap by scientific/commercial/military/government budget standards, and the results indicate that models could be made much larger. Second, models can also be made much more powerful, as GPT is an old approach known to be flawed in both minor & major ways, and far from an 'ideal' Transformer. Third, GPT-3's capabilities come from learning on raw (unsupervised) data; that has long been one of the weakest areas of DL, holding back progress in other areas like reinforcement learning or robotics. Sequence models can learn rich models of environments & rewards (either online or offline), and implicitly plan and perform well (Chen et al 2021's Decision Transformer is a demonstration of how RL can lurk in what looks merely like simple supervised learning). Models like GPT-3 suggest that large unsupervised models will be vital components of future DL systems, as they can be 'plugged into' systems to immediately provide understanding of the world, humans, natural language, and reasoning.
The meta-learning has a longer-term implication: it is a demonstration of the blessings of scale, where problems with simple neural networks vanish, and they become more powerful, more generalizable, more human-like when simply made very large & trained on very large datasets with very large compute—even though those properties are believed to require complicated architectures & fancy algorithms (and this perceived need drives much research). Unsupervised models benefit from this, as training on large corpuses like Internet-scale text present a myriad of difficult problems to solve; this is enough to drive meta-learning despite GPT not being designed for meta-learning in any way. (This family of phenomena is perhaps driven by neural networks functioning as ensembles of many sub-networks with them all averaging out to an Occam's razor, which for small data & models, learn superficial or memorized parts of the data, but can be forced into true learning by making the problems hard & rich enough.)
The blessings of scale in turn support a radical theory: an old AI paradigm held by a few pioneers in connectionism (early artificial neural network research) and by more recent deep learning researchers, the scaling hypothesis. The scaling hypothesis regards the blessings of scale as the secret of AGI: intelligence is 'just' simple neural units & learning algorithms applied to diverse experiences at a (currently) unreachable scale. As increasing computational resources permit running such algorithms at the necessary scale, the neural networks will get ever more intelligent.
When? Estimates of Moore's law-like progress curves decades ago by pioneers like Hans Moravec indicated that it would take until the 2010s for the sufficiently-cheap compute for tiny insect-level prototype systems to be available, and the 2020s for the first sub-human systems to become feasible, and these forecasts are holding up. (Despite this vindication, the scaling hypothesis is so unpopular an idea, and difficult to prove in advance rather than as a fait accompli, that while the GPT-3 results finally drew some public notice after OpenAI enabled limited public access & people could experiment with it live, it is unlikely that many entities will modify their research philosophies, much less kick off an 'arms race'.)
Depending on what investments are made into scaling DL, and how fast compute grows, the 2020s should be quite interesting—sigmoid or singularity?
Objective metrics hard to interpret. How much better is (un-finetuned base) GPT-3? The likelihood loss is an absolute measure, as are the benchmarks, but it's hard to say what a decrease of, say, 0.1 bits per character might mean, or a 5% improvement on SQuAD, in terms of real-world use or creative fiction writing. It feels like a large improvement, definitely a larger improvement than going from GPT-2-345M to GPT-2-1.5b, or GPT-2-1.5b to GPT-3-12b, but how much?
Screening gains: 1:100 → 1:5 or 20× better? For fiction, I treat it as a curation problem: how many samples do I have to read to get one worth showing off? One could think of it asking how efficiently a model searches The Library of Babel (or should that be, The Book of Sand, or "The Aleph"?): at the one extreme, an algorithm which selects letters at random will have to generate astronomically large numbers of samples before, like the proverbial monkeys, they generate a page from a Shakespeare play; at the other extreme, a reasonably intelligent human can dash off 1 plausible page in 1 try. With AI algorithms, the results are intermediate but rapidly improving. A Markov chain text generator trained on a small corpus represents a huge leap over randomness: instead of having to generate quadrillions of samples, one might only have to generate millions of samples to get a coherent page; this can be improved to hundreds of thousands by increasing the depth of the n of its n-grams, which is feasible as one moves to Internet-scale text datasets (the classic "unreasonable effectiveness of data" example) or by careful hand-engineering & combination with other approaches like Mad-Libs-esque templating. A char-RNN, like in my char-RNN poetry experiments does better still: it easily generates reasonable paragraphs, so one might only have to brute force on the order of thousands of samples to get a pleasing page. With GPT-2-117M poetry, I'd typically read through a few hundred samples to get a good one, with worthwhile improvements coming from 345M→774M→1.5b; by 1.5b, I'd say that for the crowdsourcing experiment, I read through 50–100 'poems' to select one. But for GPT-3, once the prompt is dialed in, the ratio appears to have dropped to closer to 1:5—maybe even as low as 1:3! I frequently find myself shrugging at the first completion I generate, "not bad!" (Certainly, the quality of GPT-3's average prompted poem appears to exceed that of almost all teenage poets.) I would have to read GPT-2 outputs for months and probably surreptitiously edit samples together to get a dataset of samples like this page.
On two occasions I have been asked,—'Pray, Mr. Babbage, if you put into the machine wrong figures, will the right answers come out?' In one case a member of the Upper, and in the other a member of the Lower, House put this question. I am not able rightly to apprehend the kind of confusion of ideas that could provoke such a question.

Charles Babbage, Passages from the Life of a Philosopher 1864
The GPT-3 neural network is so large a model in terms of power and dataset that it exhibits qualitatively different behavior: you do not apply it to a fixed set of tasks which were in the training dataset, requiring retraining on additional data if one wants to handle a new task (as one would have to retrain GPT-2); instead, you interact with it, expressing any task in terms of natural language descriptions, requests, and examples, tweaking the prompt until it "understands" & it meta-learns the new task based on the high-level abstractions it learned from the pretraining.

This is a rather different way of using a DL model, and it's better to think of it as a new kind of programming, prompt programming, where the prompt is now a coding language which programs GPT-3 to do new things.
A new programming paradigm? The GPT-3 neural network is so large a model in terms of power and dataset that it exhibits qualitatively different behavior: you do not apply it to a fixed set of tasks which were in the training dataset, requiring retraining on additional data if one wants to handle a new task (as one would have to retrain GPT-2); instead, you interact with it, expressing any task in terms of natural language descriptions, requests, and examples, tweaking the prompt until it "understands" & it meta-learns the new task based on the high-level abstractions it learned from the pretraining. This is a rather different way of using a DL model, and it's better to think of it as a new kind of programming, where the prompt is now a "program" which programs GPT-3 to do new things. "Prompt programming"5 is less like regular programming than it is an exercise in a kind of tacit knowledge/mechanical sympathy. It is like coaching a superintelligent cat into learning a new trick: you can ask it, and it will do the trick perfectly sometimes, which makes it all the more frustrating when it rolls over to lick its butt instead—you know the problem is not that it can't but that it won't.
Reprogramming by asking politely. The demos above and on this page all6 use the raw default GPT-3 model, without any additional training. Instead, to get all these different behaviors, one provides a short textual input to GPT-3, with which it will predict the next piece of text (as opposed to starting with an empty input and freely generating anything); GPT-3, just by reading it, can then flexibly adapt its writing style and reasoning and use new definitions or rules or words defined in the textual input no matter that it has never seen them before.
What is meta-learning? This is considered "meta-learning" because GPT-3 has "learned how to learn": in its endless training on so many gigabytes of text, it encounters so many different kinds of text that it had no choice but to learn abstractions & how to understand descriptions & instructions & formatting & authorial intent to let it adapt on the fly to the current piece of text it was training on, since there was too much diversity & data for it to simply learn each task normally by repeated exposure—much less memorize all the data. At scale, for a sufficiently powerful (large) NN, the simplest & easiest algorithms to learn for better prediction are abstractions & intelligence: the harder and bigger, the better. When GPT-3 meta-learns, the weights of the model do not change, but as the model computes layer by layer, the internal numbers become new abstractions which can carry out tasks it has never done before; in a sense, the GPT-3 model with the 175b parameters is not the real model—the real model is those ephemeral numbers which exist in between the input and the output, and define a new GPT-3 tailored to the current piece of text. The real GPT-3 is not the fixed hardwired weights, which merely are a bootstrap or a compiler for creating the real GPT-3, a new model customized to the data which exists only briefly in the soft attention weights during runtime, and may do completely different things from the baseline model.7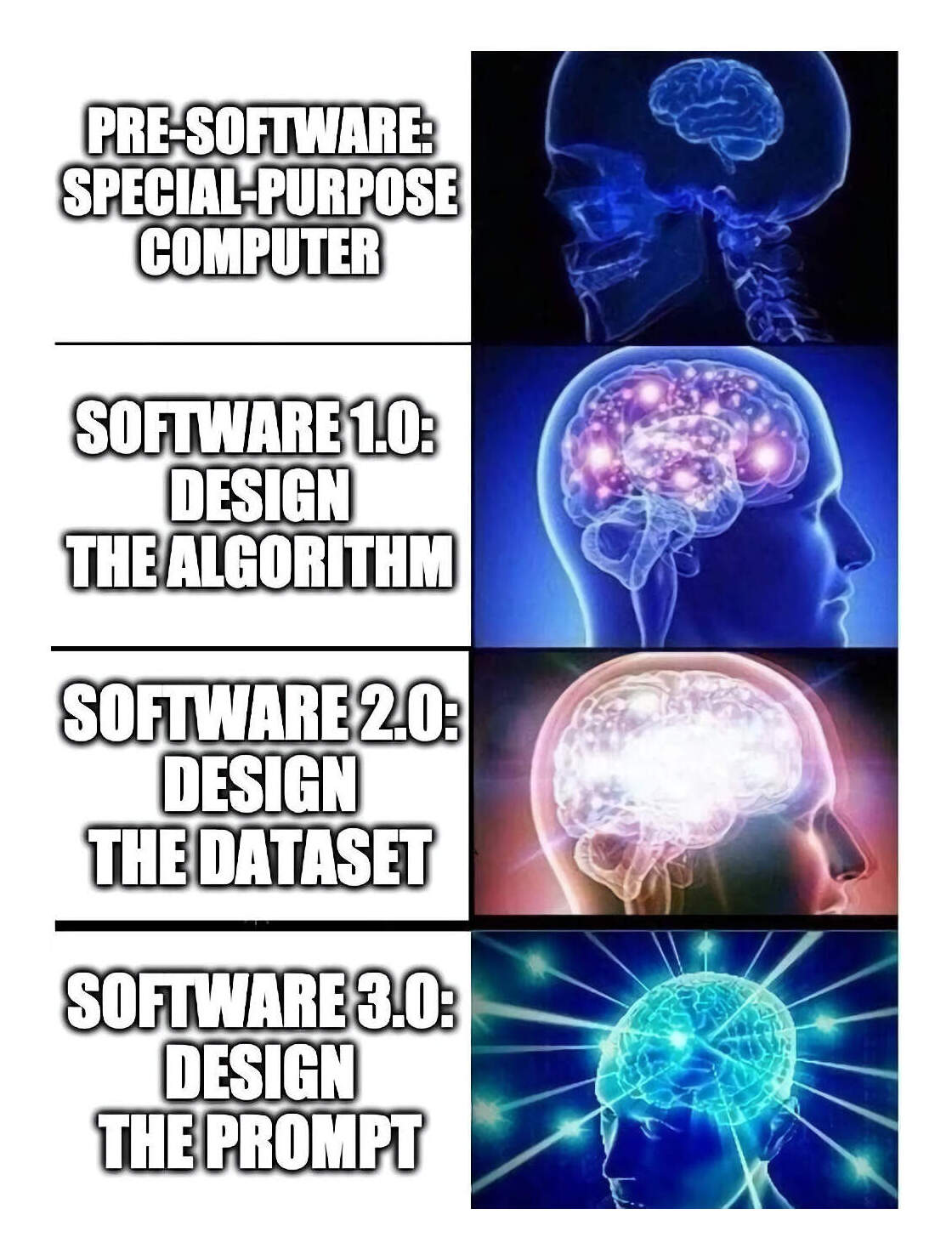 Programming by dialogue? Because you aren't finetuning GPT-3 in the conventional way, interacting with GPT-3 via its few-shot learning power takes on an entirely different feeling than anything else I've used before. With regular software, you have to think through exactly how to do something; with deep learning software, you have to focus on providing data which in some way embodies the correct answer which you want; but with GPT-3, you instead think about how to describe what you want. With GPT-3, it helps to anthropomorphize it: sometimes you literally just have to ask for what you want. (It can't possibly be that easy, can it? Sometimes, it is!) Thus, you can simply ask it directly in the Q&A format: "what is X?" For example, if you want it to detect gibberish questions and avoid trying to answer them and show some understanding of its uncertainty, you can specify in the prompt that it shouldn't answer nonsense questions, and you can ask it to double-check an earlier answer; if you find it doesn't seem to understand that a horse has two eyes or that a toaster weighs more than a pencil, perhaps asking more questions with better settings will fix that. Other times, you must instead think, "If a human had already written out what I wanted, what would the first few sentences sound like? What would the introduction and summary sound like? What if I told a story here, how would that story start?" Thus, the summarization prompt: "My second grader asked me what this passage means: …" Some tasks in the GPT-3 paper which showed disappointing performance can be improved dramatically by finding appropriate formatting or prompts: arithmetic improves enormously with comma formatting of decimals (due to BPEs), and the "Word in Context" benchmark (where GPT-3 surprisingly showed below-chance performance compared to the 85% SOTA) can be improved to >70% with better prompting, while on MNLI & SuperGLUE benchmarks better RoBERTa prompts are worth hundreds of datapoints. Or Reynolds & McDonell2021 demonstrate that the GPT-3 paper substantially underestimates GPT-3's ability to translate Fr→En: to my considerable surprise, the straightforward 10-example translation prompt Brown et al used is actually worse than the zero-shot "French: XYZ / English:", because, apparently, when formatted that way the 10-shots look like a narrative to follow rather than merely demonstrative examples. Even for BERT or GPT-2, large gains in performance are possible by directly optimizing the prompt instead of guessing (Jiang et al 2019, Li & Liang2021). (Outputs can be further improved in a knowledge-free way by calibrating sets of outputs to compensate for the vagaries of greedy sampling, which would again not be possible if the knowledge were not in GPT-3 to begin with.)
Sampling Can Prove The Presence Of Knowledge But Not The Absence
GPT-3 may "fail" if a prompt is poorly-written, does not include enough examples, or bad sampling settings are used. I have demonstrated this many times when someone shows a "failure" of GPT-3—the failure was their own. The question is not whether a given prompt works, but whether any prompt works.
Any child psychologist trained in administering IQ tests is well-aware of the need to build rapport with children, to monitor them for problems and gauge their linguistic skills: are they not a native English speaker? Are they angry with or afraid of the psychologist? Are they apathetic and unmotivated? It is hard to ace an IQ test by accident, but it's trivial to fail one on purpose; trying to administer an IQ test to a child who has taken a disliking to you is a waste of the time of everyone involved, and presenting the resulting score as meaningful is professional malpractice.
The Lizardman Constant: nonsense prompt completions by humans.
Another cautionary example comes from survey research. To briefly review Scott Alexander's "lizardman constant": human survey-takers will, with >0% probability, endorse the most absurd items on a survey, for a mix of reasons like laziness, boredom, humor, sabotage, ignorance, and stupidity. For example, 4% of respondents may endorse the claim 'lizard-people rule the earth', 5% of atheists believe in God, and so on. (And these are not necessarily transient random errors—when challenged explicitly on them, researchers find many will come up with bizarre rationalizations to explain responses like how they answered 'yes' to "I have had a fatal heart attack".) This cautions us against taking survey results about extremely unusual people or traits too literally, or expecting perfectly accurate results, as given the lizardman constant and other crud factors, it is entirely possible that some or all of the outliers may just be the lizardman constant at work.
Humans need prompt programming too. Should we conclude from such cases that humans, or at least some specific humans, are not actually intelligent? No, of course not. We would say that such people have simply not been properly instructed or educated, given incentive to be honest, or made normal unavoidable errors. It would be tendentious in the extreme to conclude that because some people will claim to have suffered fatal heart attacks that they are merely statistical pattern-matching machines emitting plausible yet semantically-null utterances while passing for human; if we want to conclude that, I hope we would probe them a little more thoughtfully than prompting them with some survey items and declaring the case closed!
Demand more from critics. We should expect nothing less of people testing GPT-3, when they claim to get a low score (much less stronger claims like "all language models, present and future, are unable to do X"): did they consider problems with their prompt? Whether all of the hyperparameters make sense for that task? Did they examine where completions go wrong, to get an idea of why GPT-3 is making errors? Did they test out a variety of strategies? Did they consider qualitatively how the failed completions sound? (Or did they copy-paste arbitrary hyperparameters, use the first prompt that came to mind, look at the output, and lazily present it to the world as proof of what GPT-3 can't do?)
Machine sympathy. Prompt programming often should be human-like: if a human wouldn't understand what was intended, why would GPT-3? It's not telepathic, and there are myriads of genres of human text which the few words of the prompt could belong to. (A helpful thought experiment: if someone emailed you a prompt out of the blue, with no other context whatsoever, what would you interpret it as? A joke, a troll, spam, or what?) Prompts should obey Gricean maxims of communication—statements should be true, informative, and relevant. One should not throw in irrelevant details or non sequiturs, because in human text, even in fiction, that implies that those details are relevant, no matter how nonsensical a narrative involving them may be.8 When a given prompt isn't working and GPT-3 keeps pivoting into other modes of completion, that may mean that one hasn't constrained it enough by imitating a correct output, and one needs to go further; writing the first few words or sentence of the target output may be necessary. (This was a particular problem with the literary parodies: GPT-3 would keep starting with it, but then switch into, say, one-liner reviews of famous novels, or would start writing fanfictions, complete with self-indulgent prefaces. The solution was to write out the first 2 or 3 sentences of an example parody, and then GPT-3 would finish out the parody, look back and see that there was an example of a literary parody, and then happily start generating dozens of works+parody pairs, once it fell into the groove.) The more natural the prompt, like a 'title' or 'introduction', the better; unnatural-text tricks that were useful for GPT-2, like dumping in a bunch of keywords bag-of-words-style to try to steer it towards a topic, appear less effective or harmful with GPT-3.
Surprisingly powerful. Prompts are perpetually surprising—I kept underestimating what GPT-3 would do with a given prompt, and as a result, I underused it. Text is a weird way to try to input all these queries and output their results or examine what GPT-3 thinks (compared to a more natural NLP approach like using BERT's embeddings), and fiddly. Just as few people would have thought that you could get GPT-2 to automatically summarize text by simply appending a "TL;DR:" string, few people would guess GPT-3 could write emoji summaries or that if you use a prompt like "Summarize the plot of J.K. Rowling's Harry Potter in the style of Ernest Hemingway", you might get out a dozen profanity-laced reviews panning 20th-century literature (or a summary—in Chinese—of the Chinese translation9), or that if you use a prompt like "Transformer AI poetry: Poetry classics as reimagined and rewritten by an artificial intelligence", GPT-3 will generate poems but then immediately generate explanations of how neural networks work & discussions from eminent researchers like Gary Marcus of why they will never be able to truly learn or exhibit creativity like generating poems. It is difficult to try out variations on prompts because as soon as the prompt works, it's tempting to keep trying out completions to marvel at the sheer variety and quality as you are seduced into further exploring possibility-space. (GPT-3 never grows impatient or bored.) What other capabilities are latent, waiting to be exposed by someone stumbling across the right prompt?
(Of course, not all these capabilities are necessarily desirable: where there is programming, you can be sure there is hacking. Where there is "prompt programming", there must be "prompt hacking"… GPT-3 can follow instructions, so within its context-window or with any external memory, it is surely Turing-complete, and who knows what weird machines or adversarial reprogrammings are possible? Consider the AI Dungeon users as an early example of "prompt hacking".)
Finetuning was necessary to 'program' GPT-2. GPT-3's "prompt programming" paradigm is strikingly different from GPT-2, where its prompts were brittle and you could only tap into what you were sure were extremely common kinds of writing, and, as like as not, it would quickly change its mind and go off writing something else. At best, you could fairly generically hint at a topic to try to at least get it to use keywords; then you would have to filter through quite a few samples to get one that really wowed you. (This was a trick I used for TWDNE to get it to generate at least vaguely anime-related plot summaries.) To get output reliably out of GPT-2, you had to finetune it on a preferably decent-sized corpus.
Do we need finetuning given GPT-3's prompting? But with GPT-3, you can just say so, and odds are good that it can do what you ask, and already knows what you'd finetune it on. (For example, I thought I would have to finetune GPT-3 to get samples of myself, since GPT-2 doesn't know anything about "Gwern"/"gwern.net"; but it turns out, all I have to do is put in "A new essay by Gwern Branwen (gwern.net):" and out comes an uncanny simulacrum of myself, or Scott Alexander, or Paul Graham, or…) Would it be better if finetuned? Indubitably. But it's not necessary. And given the creativity of the non-finetuned GPT-3, I'm not sure that I even want to—and forfeit all the behaviors I haven't yet discovered‽
As of mid-June 2020, the OpenAI API does not support finetuning although OA was working on it. But after enough time playing with GPT-3, I have begun to wonder: at this level of meta-learning & general knowledge, do we need finetuning at all?
For GPT-2, I saw finetuning as doing 2 things:
Fixing ignorance: missing domain knowledge

GPT-2 didn't know many things about most things—it was just a handful (1.5 billion) of parameters trained briefly on the tiniest fraction of the Common Crawl subset of the Internet, without any books even10. It's not surprising that for many domains, it wouldn't know the details; and even if the dataset included adequate text, it did not train on that data many times, and the knowledge competed with all the other domains it needed to know about, interfering.

But GPT-3 already knows everything! GPT-3 is so much larger on every dimension that this seems like much less of a problem for any domain which is already well-represented in public HTML pages. GPT-2 might need to be trained on a fanfiction corpus to learn about some obscure character in a random media franchise & generate good fiction, but GPT-3 already knows about them and use them appropriately in writing new fiction.

Prompting a specific task:

Even when GPT-2 knew a domain adequately, it had the frustrating behavior of rapidly switching domains. You might prompt it with a poem genre it knows adequately already, but then after a few lines, it would generate an end-of-text BPE and switch to generating a news article on Donald Trump. (Trump shows up a lot.) Presumably, while poetry was reasonably represented, it was still rare enough that GPT-2 considered poetry highly unlikely to be the next word, and keeps trying to jump to some more common & likely kind of text, and GPT-2 is not smart enough to infer & respect the intent of the prompt.

GPT-3 exhibits much less of this 'mode switching' sort of behavior. Perhaps because it is trained on a much larger and more comprehensive dataset (so news articles aren't so dominant), but also I suspect the meta-learning makes it much better at staying on track and inferring the intent of the prompt—hence things like the "Transformer poetry" prompt, where despite being what must be highly unusual text, even when switching to prose, it is able to improvise appropriate followup commentary.

Nevertheless, sometimes we can't or don't want to rely on prompt programming. A specific task may be necessary when a task has evaded our prompt programming skills, or we have data but not prompt programmer time. For example, in the GPT-3 paper, many tasks underperform what GPT-3 can do if we take the time to tailor the prompts & sampling hyperparameters, and just throwing the naive prompt formatting at GPT-3 is misleading. However, researchers do not have the time to go through scores of benchmark tasks and fix them one by one; simply finetuning on them collectively ought to do at least as well as the correct prompts would, and requires much less human effort (albeit more infrastructure).
So, what would be the point of finetuning GPT-3 on poetry or literature? It has likely already seen the finetuning corpus, knows most of it, and will tractably generate poems on demand. There may be gains, but I wonder if they would be nearly as large as they were for GPT-2?
All of the following samples were generated using the OpenAI Beta Playground, which looks like this: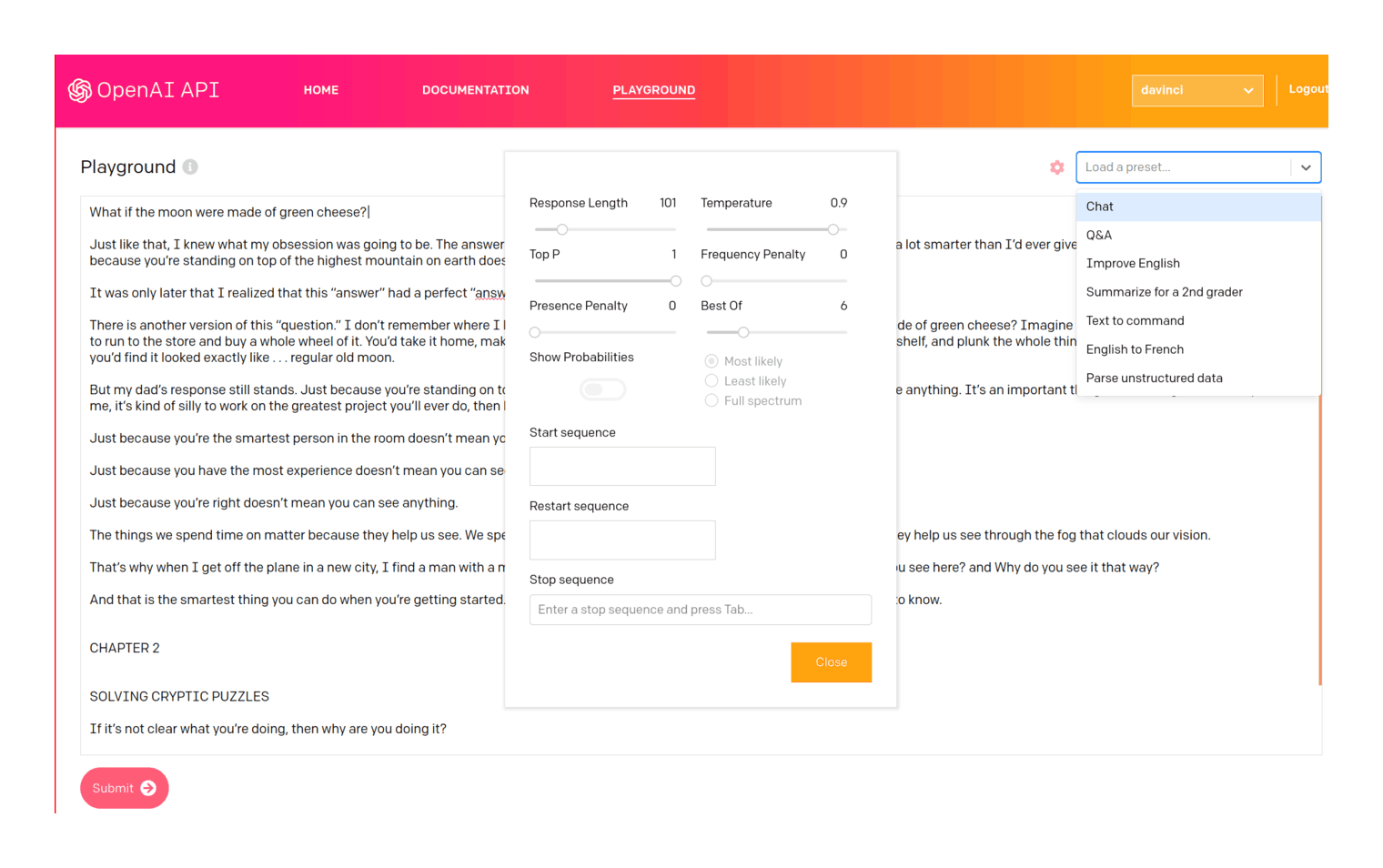 The Playground has some rough edges in Beta, and capacity issues. A good way to start is to generate samples with the log probs/logits turned on, and paying attention to how sampling hyperparameters affect output, to gain intuition for how GPT-3 thinks & what samples looks like when sampling goes haywire.
Tradeoff: diversity vs accuracy. It offers the standard sampling options familiar from earlier GPT-2 interfaces, including "nucleus sampling". One particularly manipulates the temperature setting to bias towards wilder or more predictable completions; for fiction, where creativity is paramount, it is best set high, perhaps as high as 1, but if one is trying to extract things which can be right or wrong, like question-answering, it's better to set it low to ensure it prefers the most likely completion. (After all, the point of a high temperature is to regularly select completions which the model thinks aren't likely; why would you do that if you are trying to get out a correct arithmetic or trivia question answer?) For topp, one can set it to ~0.95 and largely forget about it unless one suspects that it's breaking answers like top-k and it needs to be much lower, like 0.5; it's there to cut off the tail of gibberish completions and reduce repetition, so doesn't affect the creativity too much. I generally avoid the use of the repetition penalties because I feel repetition is critical to creative fiction, and I'd rather err on the side of too much than too little, but sometimes they are a useful intervention; GPT-3, sad to say, maintains some of the weaknesses of GPT-2 and other likelihood-trained autoregressive sequence models, such as the propensity to fall into degenerate repetition.
Ranking final results for quality gain. A little more unusually, it offers a "best of" (BO) option which is the Meena ranking trick (other names include "generator rejection sampling" or "random-sampling shooting method": generate n possible completions independently, and then pick the one with best total likelihood, which avoids the degeneration that an explicit tree/beam search would unfortunately trigger, as documented most recently by the nucleus sampling paper & reported by many others about likelihood-trained text models in the past eg. char-RNN in 2015, Koehn & Knowles, or Ott et al 201811). I'm not sure how to best use BO: it seems to be highly helpful for things with one right answer (such as tricky Q&A or reasoning), but when it helps with 'creative' completions is less clear. I tried out BO heavily because I couldn't quite figure out how it interacts with quality. On the smaller models, it seems to help boost quality up towards 'davinci' (GPT-3-175b) levels without causing too much trouble, but on davinci, it appears to exacerbate the usual sampling issues: particularly with poetry, it's easy for a GPT to fall into repetition traps or loops, or spit out memorized poems, and BO makes that much more likely. For generating completions of famous poems, it's quite hard to get GPT-3 to generate new versions unless you actively edit the poem to force a difference. (In the most extreme case, in the case of generating new variations on "Jabberwocky", I have been unable to generate any new versions under any setting, even taking the step of aggressively editing in new lines about how the vorpal sword bounced off the Jabberwocky and it won… It always spits out chunks of the original.12) So BO is a double-edged sword.
The best way I found to use it is to sample without it (BO=1) at max temp, and then once it has several distinctly different lines, then sampling with more (eg. BO=5) seems to help rather than hurt. This is a little surprising to me because for Meena, it made a large difference to do even a little BO, and while it had diminishing returns, I don't think there was any point they tested where higher best-of-s made responses actually much worse (as opposed to merely n times more expensive). Possibly BO is much more useful for nonfiction/information-processing tasks, where there's one correct answer and BO can help overcome errors introduced by sampling or myopia.
To constrain the behavior of a program precisely to a range may be very hard, just as a writer will need some skill to express just a certain degree of ambiguity. A computer is like a violin. You can imagine a novice trying first a phonograph and then a violin. The latter, he says, sounds terrible. That is the argument we have heard from our humanists and most of our computer scientists. Computer programs are good, they say, for particular purposes, but they aren't flexible. Neither is a violin, or a typewriter, until you learn how to use it.

Marvin Minsky, "Why Programming Is a Good Medium for Expressing Poorly-Understood and Sloppily-Formulated Ideas" 1967
Anthropomorphize your prompts. There is no substitute for testing out a number of prompts to see what different completions they elicit and to reverse-engineer what kind of text GPT-3 "thinks" a prompt came from, which may not be what you intend and assume (after all, GPT-3 just sees the few words of the prompt—it's no more a telepath than you are). If you ask it a question to test its commonsense reasoning like "how many eyes does a horse have" and it starts completing with a knock-knock joke, you need to rethink your prompt! Does it spit out completions that look like it's thinking but it's executing the wrong algorithm, or it falls back to copying parts of the input? Then one may need to few-shot it by providing examples to guide it to one of several possible things to do. One should also keep in mind the importance of sampling parameters, and whether one is looking for a single correct answer (so low temp with BO=1 if compute-limited, or high temp and BO=20 if possible) or if one is trying for creative answers (high temp with repetition penalties).
The 4 Horsemen: short context, bad prompts, BPEs, random sampling. My rule of thumb when dealing with GPT-3 is that if it is messing up, the errors are usually attributable to one of 4 problems: too-short context windows, insufficient prompt engineering, BPE encoding making GPT-3 'blind' to what it needs to see to understand & solve a problem, or noisy sampling sabotaging GPT-3's attempts to show what it knows. Another useful heuristic is to try to express something as a multi-step reasoning process or "inner monologue", such as a dialogue: because GPT-3 is a feedforward NN, it can only solve tasks which fit within one "step" or forward pass; any given problem may be too inherently serial for GPT-3 to have enough 'thinking time' to solve it, even if it can successfully solve each intermediate sub-problem within a step. So people have demonstrated that GPT-3 won't solve a simple math problem in a single step, but it will solve it if you reframe it as a 'dialogue' with the anime character Holo—who knew neural network research would lead to anime wolfgirl demonology?—and even ask it to guess-and-check or brute-force the answer (see also Austin et al 2021); one can also experiment in coaching it through examples13, or requiring reasons for an answer to show its work, or asking it about previous answers or using "uncertainty prompts". This makes sense if we think of Transformers as unrolled RNNs which unfortunately lack a hidden state: serializing out the reasoning helps overcome that computational limitation.
Logprob debugging. GPT-3 does not directly emit text, but it instead predicts the probability (or "likelihood") of the 51k possible BPEs given a text; instead of merely feeding them into some randomized sampling process like temperature top-k/topp sampling, one can also record the predicted probability of each BPE conditional on all the previous BPEs. This gives you a simple idea of what GPT-3 is thinking about each BPE: is it likely or unlikely (given the previous BPEs)? Which BPEs are especially unlikely? Does it "get it" as the completion goes on? I don't use logprobs much but I generally use them in 1 of 3 ways: I use them to see if the prompt 'looks weird' to GPT-3; to see where in a completion it 'goes off the rails' (suggesting the need for lower temperatures/topp or higher BO); and to peek at possible completions to see how uncertain it is about the right answer—a good example of that is Arram Sabeti's uncertainty prompts investigation where the logprobs of each possible completion gives you an idea of how well the uncertainty prompts are working in getting GPT-3 to put weight on the right answer, or in my parity analysis where I observed that the logprobs of 0 vs 1 were almost exactly 50:50 no matter how many samples I added, showing no trace whatsoever of few-shot learning happening. Thus, logprobs can offer more insight while debugging a prompt than just repeatedly hitting 'complete' and getting frustrated.
I strongly recommend against use of the Dragon model as a "GPT-3" model. The finetuning appears to have seriously degraded the model, in addition to the censoring & filtering now done.
As of June 2021, I recommend either waiting for API access or using GPT-J (high quality albeit 2 OOMs smaller).
AI Dungeon < GPT-3. For people using the AI Dungeon (AID) route, things are tricky because AID users don't have the same sampling options that API users do (no best-of is particularly painful when trying to elicit correct answers to hard questions), and no control over the full prompt/history, with AID doing lots of things behind the scenes on a model that may have been finetuned on RPG-like material & countless AID game transcripts etc, and with quality of model completely out of their hands (does choosing "custom" get you Dragon, or do you have to choose a different mode & edit it? the necessary trick seems to change over time), with occasional drastic quality drops reported by many AID users when… something changes on the backend (as, most dramatically, it did in March 2021, seriously degrading quality). For example, if you are an AID user, were you aware that the first response for a custom prompt is actually always GPT-2, to try to block backdoor GPT-3 access? Or that OA requires toxicity filters? Or that "We cut off the generation at certain points (trailing sentences etc…) Disable certain tokens to improve performance or make generation safer, fine-tune on text adventures and only use the last ~1000 tokens of context." Sampling is further modified by directly adjusting the logits before sampling. A cautionary example of AID use comes from Gary Marcus & Ernest Davis's use: they filtered a large number of questions through AID to try to find cases GPT-3 would fail on; however, when the AID failure cases were tested on GPT-3 by Douglas Summers-Stay, it solved half of them! (AID is designed to produce fun text adventures, not be a NLP testbed, and that shows when one tries to use AID as a backdoor to GPT-3. It's worth noting that prompts do not transfer between models and it stands to reason that they do not necessarily transfer between original vs finetuned models either.) To work around this, AID users seem to need to warm up sessions carefully with descriptive prompts/interactions to overcome the gamification, and avoid anything that might veer back into comedy or drama. And as AID itself is constantly changing, the necessary tricks & quality also change (not always for the better).
The root cause of Dragon issues—much-inferior performance, the need for 'warmup', the bizarre frequency of snuff endings reported by users, persistent unwanted intrusions by characters like "Count Grey" etc—all seem to trace back to the corpus that Dragon was finetuned on. A closer look at the original finetuning data in May 2021 by an "Aurora" revealed that the data was far lower quality than anyone had realized; in addition to simply being wretched writing, it includes much highly objectionable content (rape, torture, child molestation & murder etc). Finetuning on such a dataset is highly ill-advised, and explains many of the oddities about Dragon vs GPT-3. (The 'warmup', for example, may be necessary to convince the model to switch to 'high-quality mode', as it defaults to imitating the finetuning data; similar to how one must avoid typos & errors in GPT-3 prompts lest GPT-3 infer the author is an idiot and quite sensibly predict the completion is more idiotic text.)
Only once these have been ruled out do I start considering alternative explanations like "language models will never solve X".
Limited memory, repetition/divergence, BPE encoding. GPT-3 is, of course, not perfect. We should keep that in mind when evaluating it. As a scaled-up GPT-2, it has mostly the same weaknesses, and my thoughts on improvements remain mostly the same (aside from moving away from BPEs, which need is becoming increasingly urgent; see the next section).
Artificial intelligence programs like deep learning neural networks may be able to beat humans at playing Go or chess, or doing arithmetic, or writing Navy Seal copypasta, but they will never be able to truly think for themselves, to have consciousness, to feel any of the richness and complexity of the world that we mere humans can feel. Mere, unenlightened humans might be impressed by the abilities of simple deep learning programs, but when looked at in a more holistic manner, it all adds up to… well, nothing. They still don't exhibit any trace of consciousness. All of the available data support the notion that humans feel and experience the world differently than computers do. While a computer can beat a human master at chess or Go or some other game of structured rules, it will never be able to truly think outside of those rules, it will never be able to come up with its own new strategies on the fly, it will never be able to feel, to react, the way a human can. Artificial intelligence programs lack consciousness and self-awareness. They will never be able to have a sense of humor. They will never be able to appreciate art, or beauty, or love. They will never feel lonely. They will never have empathy for other people, for animals, for the environment. They will never enjoy music or fall in love, or cry at the drop of a hat. Merely by existing, mere, unenlightened humans are intellectually superior to computers, no matter how good our computers get at winning games like Go or Jeopardy. We don't live by the rules of those games. Our minds are much, much bigger than that.
Wait, I'm sorry—that preceding paragraph on the weaknesses of deep learning was actually written by GPT-3, and is in the wrong section. (Management regrets the mistake.) But seriously, what weaknesses does GPT-3 have?
No memory (fixable). The first limit is that it remains hobbled by the limited context window. GPT-3 has no form of memory or recurrence, so it cannot see anything outside its limited 2048 BPEs (roughly, 500–1000 words). This means it cannot hope to write anything of any serious length, because the beginning will soon vanish over the event horizon, and it also limits its ability to engage in few-shot learning, for the same reason: the prompt+generation will quickly exceed the window length. While the damage may be limited for tasks where the format is repetitive, like Q&A (so GPT-3 can do the necessary meta-learning over its completions just as well as over the original prompt), this does limit it and is frustrating. There are many possible solutions to quadratic attention.
Repetition/gibberish (mystery). Autoregressive language models trained by likelihood (prediction) loss all share an extremely annoying problem: when you generate free-form completions, they have a tendency to eventually fall into repetitive loops of gibberish. Whether GPT-2 or T5 or etc, they all seem to do it, and if one tries to avoid such extremely dumb & crude sampling strategies like top-k temperature sampling by doing explicit search for likely text completions, such as beam search sampling, these searches actually make the problem worse, and the better your search is, the worse the results are. Tweaks like nucleus sampling can reduce it, but do not eliminate it. (No one has tried gradient ascent for generating optimal samples, as far as I know.) Since GPT-2-1.5b seemed almost as prone as GPT-2-117M, I was unsurprised to find that GPT-3 too falls easily into the repetition trap.
Why repetition? This behavior remains puzzling and I don't think anyone really knows how to fix it. Top-k or nucleus sampling can't be right and are clearly ugly ad hoc hacks, but is the core problem likelihood training or sampling, or what? And why is it never a problem for other kinds of sequences like images, and much less of one for music, or in tasks like neural translation where tricks like beam search are always used because they do improve? (We don't see it in char-RNNs or GPT-2s trained on ABC/MIDI music, or OA Jukebox trained on raw audio; we certainly don't see it in iGPT or PixelRNN etc.) Likelihood training is compellingly simple and efficient, and we know that real brains are constantly predicting future inputs; it seems implausible that the entire problem will disappear if we slap on some Bayesian tricks to get posterior estimates of the likelihood of each possible BPE completion (and I'm not aware of anyone showing that it does in something like a small Bayesian RNN trained with HMC or by using deep ensembling or other Bayesian approximations). Further, if likelihood training is so bad, why does minimizing the predictive loss work so consistently over a wide range to improve the quality of generations and how useful the model is for zero/few-shot learning or semi-supervised tasks, and why does the loss correlate near-perfectly with human ratings of quality in the Meena paper?
Language Prediction = Imitation Learning? My intuition is that the repetition trap is essentially the DAgger/off-policy imitation learning problem in a non-RL guise: as the model is fed back in its own guesses as a ground truth, the confabulated text becomes gradually more off-policy and divergent from real human-written text (which is backed by a knowledge base & a purpose), and the model is unable to come up with sensible continuations (having never trained on such gibberish) and does not 'want' to get back on track (having been trained purely to make one-step predictions). The solution might look something like detecting when a completion might go too far off-distribution and backtracking, or more RL-like training of generation as opposed to mere prediction. It would probably help also to use some sort of hierarchical or planning method: one might be able to convince GPT-3 to generate summaries and then expand each line of the summary recursively (Tan et al 2020 does something similar using a bag-of-words topic with GPT-2/BART to "upscale" a seed; the most impressive demonstration of recursive generation thus far is DeepMind's "Dramatron" which can write coherent screenplays).
Compared to GPT-2, GPT-3 improves performance on character-level tasks like rhyming, alliteration, punning, anagrams or permutations, acrostic poems, and arithmetic less than expected, despite being very good at many other closely-related kinds of writings like satire.
Why? A plausible explanation is an obscure technical detail: as a performance optimization, GPT does not see characters but ~51k word or sub-word-chunks called "byte-pair encodings" (BPEs). A BPE can range from an individual letter like "e", to words like "nine" (BPE #30,888 in the OA GPT-2 BPE vocab), to horrifying things like "rawdownloadcloneembedreportprint" (BPE #30,906). The number "10" might be encoded as just "10" (BPE #940), or it might be encoded as the token "1" (#16) followed by "0" (#15); the number 70710 (no commas!) might be encoded as "70710" (BPE #42,877) or… as quite a lot of different possible sequences of BPEs.
Because GPTs never see characters but opaque partial-words, which vary chaotically based on the specific word and even the surrounding context, they are unable to easily learn about character-level aspects of language, like similar spellings or sounds, and are forced to learn relationships much more indirectly, like by brute-force memorizing of pairs of words.
Some experiments with reformatting GPT-3's poorest-performing tasks to avoid inconsistent BPE encodings of strings shows small to large performance gains, consistent with this theory.
Bad at phonetic/character-level tasks. Disappointingly, the issues that have been noticed with GPT-2-poetry's disinclination to rhyme remain. GPT-3 rhymes reasonably well and often when appropriate, but the improvement is much smaller on rhyming than it is on pretty much everything else. Apparently it is easier for GPT-3 to learn things like arithmetic and spreadsheets than it is to learn how to rhyme. (DeepMind's 280b-parameter Gopher model is considerably better than GPT-3, but also uses BPEs and also cannot write rhyming poetry; GPT-NeoX-20B likewise struggles with un-formatted arithmetic; LaMDA doesn't seem to have been prompted specifically yet but published instances of LaMDA poetry don't rhyme; cf. Waldoch2021, Wang et al 2021, Efrat et al 2022 Roush et al 2022, Charabarty et al 2022…) A similar issue comes with puns. Better, but not as much better as one would expect given the leap on many other capabilities. Trying to generate puns or rhymes, it seems like GPT-3 know extremely well what they are on an abstract level, and will appropriately manipulate words and attempt to make puns or rhymes (see the shoggoth-cat dialogue below for a particularly striking example), but the words it chooses just aren't right on a phonetic basis. On the other hand, it's not as if GPT-3 is unable to understand humor—it is a brilliant mimic with parodies, has a cutting wit for satire, and can generate one-liners easily like the "I have a joke" format (1, 2) or Drake memes, as long as they rely more on semantics than syntax.
BPEs ≠ characters! My suspicion here is that these, and perhaps other issues, is due to the lossy BPE encoding. GPT models do not see individual characters, but instead a larger chunk, called a byte-pair encoding (BPE); a byte-pair is a simple compression scheme where 50,257 word fragments or characters are chosen to try to minimize the encoding length on some arbitrary text corpus, so a particularly common word may get a unique BPE while a longer word will be encoded as 2 or 3 BPEs, and a completely novel word will be encoded letter BPE by letter BPE as a fallback. Hence, even if 2 words sound and are spelled similarly, they may be given totally different BPE encodings which don't have a single BPE in common.14 Thus, otherwise intelligent models can be surprisingly inept at spelling: the embedding of GPT-2 or RoBERTa, for example, can only spell a third of words.
If BPEs are the problem, then because the knowledge of phonetics is erased from the training data, GPT-3 cannot rhyme (anymore than you can color this piece of text as a synesthete sees it): there will be no clever prompt programming trick which suddenly makes it fluently rhyme, and scaling will deliver only minor improvements. Consistent with this thesis, many API users have tried hard to make GPT-3 rhyme, in part to prove me wrong about BPEs being the problem, and failed miserably: you may think you have gotten some rhyming, because GPT-3 has memorized some common rhymes, on the level of doggerel, but as soon as you try to get some novel rhymes or test it on specified words, the inability is clear.
The pervasive use of BPE encodings explains some of the failures of GPT/CLIP-related models (including DALL·E 2). Wired asks GPT-3 & GPT-4 to "Write a list of 10 words that are 6 letters long. Always make sure that the third letter is 'k'." and professes shock that it doesn't work, and evidence we should not fall for the 'hype'. In Water Cooler Trivia's GPT-3 test, there are many signatures of BPE-induced damage: word play & pun-heavy questions were its two worst category of trivia questions despite good vocabulary performance, and WCT noted that its typical double-alliterative clues harmed GPT-3 performance & GPT-3 was unable to answer questions demanding words with specific numbers of letters. Paralleling my GPT-2-poetry's poor rhyming, Wang et al 2021 try to make a GPT-2 limerick model, and are puzzled that, without using a rhyming dictionary & apparatus to force rhymes, GPT-2 simply will not generate limericks even when finetuned on a limerick datase with n > 2000—it generates lines with too-long syllables, which never rhyme, often seem incoherent, and when it does succeed it has only memorized training examples. zwitterion notes that GPT-3's "6 word stories" suffer from similar difficulties in counting exactly 6 words15, and we can point out that Efrat et al 2022's call for explanations for why their "LMentry" benchmark tasks for GPT-3 models can show such low performance is already explained by most of their tasks taking the form of "which two words sound alike" or "what is the first letter of this word" (likewise serial startup founder Steve Newman's puzzlement that GPT-4 cannot understand & correct letter-level errors produced by its diff code or concatenate characters to form prime numbers). Nostalgebraist discussed the extreme weirdness of BPEs and how they change chaotically based on whitespace, capitalization, and context for GPT-2, with a followup post for GPT-3 on the even weirder encoding of numbers sans commas.16 I read Nostalgebraist's at the time, but I didn't know if that was really an issue for GPT-2, because problems like lack of rhyming might just be GPT-2 being stupid, as it was rather stupid in many ways, and examples like the spaceless GPT-2-music model were ambiguous; I kept it in mind while evaluating GPT-3, however.
Efficient… but limiting. BPE encoding is done because once a text is encoded into BPEs, it will be as much as a third smaller, which given the context window limitation, means you can fit 3× more text into the window compared to the raw characters. This is indeed quite a gain, but it is a double-edged sword: it is confusing to write code for it because the BPE encoding of a text is unfamiliar & unpredictable (adding a letter can change the final BPEs completely), and the consequences of obscuring the actual characters from GPT are unclear. I think that BPEs bias the model and may make rhyming & puns extremely difficult because they obscure the phonetics of words; GPT-3 can still do it, but it is forced to rely on brute force, by noticing that a particular grab-bag of BPEs (all of the different BPEs which might encode a particular sound in its various words) correlates with another grab-bag of BPEs, and it must do so for every pairwise possibility. How can you ask GPT-3 to write a poem where every word starts with 's' when 's' encodes to, say, BPE #23, and every word that starts with 's' like 'Sally' is encoded as Sal|l|y / [2301,14,25]…? It'd be unsurprising if GPTs struggled to understand & manipulate things on the character level given that the entire point of BPE is to compress away characters as much as possible. (There are similar issues in neural machine translation: analytic languages, which use a relatively small number of unique words, aren't too badly harmed by forcing text to be encoded into a fixed number of words, because the order matters more than what letters each word is made of; the lack of letters can be made up for by memorization & brute force. However, a synthetic language like Finnish or German—with their famously long words like kumarreksituteskenteleentuvaisehkollaismaisekkuudellisenneskenteluttelemattomammuuksissansakaankopahan or Rindfleischetikettierungsüberwachungsaufgabenübertragungsgesetz/'law to transfer duties of monitoring labelling of beef' formed by constantly adding additional letters/words—has countless unique or extremely rare words no matter how large your corpus, all of whose internal structure of letters & sub-words is hidden by a word embedding, which destroys the ability to understand them.)
Reformatting to beat BPEs. I have further observed that GPT-3's anagram capabilities appear to improve considerably if you separate each letter in an anagram with a space (guaranteeing that the letter will have the same BPE in both the scrambled & unscrambled versions). DutytoDevelop on the OA forums observes that rephrasing numbers in math problems as written-out words like "two-hundred and one" appears to boost algebra/arithmetic performance, and Matt Brockman has observed more rigorously by testing thousands of examples over several orders of magnitude, that GPT-3's arithmetic ability—surprisingly poor, given we know far smaller Transformers work well in math domains (eg. Saxton et al 2019, Thopliterce, or GPT-2 for theorem-proving)—appears to dramatically improve several-fold if you merely format numbers with commas instead of being purely numeric (with an additional boost from using dollar signs), and Nogueira et al 2021's demonstration with T5 that decimal formatting is the worst of all number formats while scientific notation enables accurate addition/subtraction of 60-digit numbers. I confirmed this with my Turing dialogue example where GPT-3 fails badly on the arithmetic sans commas & low temperature, but often gets it exactly correct with commas.17 (Why? More written text may use commas when writing out implicit or explicit arithmetic, yes, but use of commas may also drastically reduce the number of unique BPEs as only 1–3 digit numbers will appear, with consistent BPE encoding, instead of having encodings which vary unpredictably over a much larger range.) I also note that GPT-3 improves on anagrams if given space-separated letters, despite the fact that this encoding is 3× larger. Likewise, acrostic poems just don't work if we input them normally, but they do if we carefully expose the relevant individual letters. This explains naturally why rhyming/puns improve gradually with parameter/data size and why GPT-3 can so accurately define & discuss them, but there is never any 'breakthrough' like with its other capabilities. We assume character-level understanding so implicitly that we fail to even consider what things look like to GPT-3 after BPE encoding. (I have not been able to test whether GPT-3 will rhyme fluently given a proper encoding; I have tried out a number of formatting strategies, using the International Phonetic Alphabet to encode rhyme-pairs at the beginning or end of lines, annotated within lines, space-separated, and non-IPA-encoded, but while GPT-3 knows the IPA for more English words than I would've expected, none of the encodings show a breakthrough in performance like with arithmetic/anagrams/acrostics. It's worth noting that Lau et al 2020 had to train their rhyme-specific sonnet-only model directly on character-level representations of end-rhyme pairs.)
BPE sabotage is common. Thus far, the BPE encoding appears to sabotage performance on rhyming, alliteration, punning, anagrams or permutations or ROT13 encodings, acrostics, arithmetic, and Melanie Mitchell's Copycat-style letter analogies (GPT-3 fails without spaces on "abc : abcd :: ijk : ijl" but succeeds when space-separated, although it doesn't solve all letter analogies and may or may not improve with priming using Mitchell's own article as the prompt; compare with a 5-year-old child). OA's GPT-f work on using GPT for MetaMath formal theorem-proving notes that they use the standard GPT-2 BPE but "preliminary experimental results demonstrate possible gains with specialized tokenization techniques." I wonder what other subtle GPT artifacts BPEs may be causing?18 For example, consider puns: BPEs mean that GPT-3 can't learn puns because it doesn't see the phonetic or spelling that drives verbal humor in dropping down to a lower level of abstraction & then back up; but the training data will still be filled with verbal humor—so what does GPT-3 learn from all that? Perhaps it learns that "humor" is a kind of writing where the convention is to tell a superficially sensible story which then ends in an (apparently) arbitrary randomly-chosen word… Another question is foreign languages like Russian; one user noticed that when they triggered Russian, completions seemed to work one Cyrillic letter at a time, which hints that it sees Russian encoded as individual characters, but attempts to trigger rhyming or puns just yielded Russian gibberish, perhaps showing the flip side of the BPE problem—with a fixed small context window, not using BPEs, particularly on low n data (Russian is ~0.18% of the GPT-3 training dataset), may itself hamper performance badly.19 (One has to assume that a synthetic & low-resource language like Turkish will be just gibberish. Transfer learning from English only goes so far.)
Fixing BPEs. BPEs were useful for smaller models that needed as much context window as possible and which wouldn't benefit much from access to the raw characters (or would be harmed because they'd underfit), but in another example of the "The Bitter Lesson", it appears it is time to discard them as we are able to pay more compute for better results. This is fixable by the same methods as fixing the context window; once the context window limit is broken and one has effective contexts of, say, l=60k, then one can afford to spend 40k of it moving to character-based inputs. Another idea, if character-level models are still infeasible, is to try to manually encode the knowledge of phonetics, at least, somehow; one way might be to data-augment inputs by using linguistics libraries to convert random texts to International Phonetic Alphabet (which GPT-3 already understands to some extent). By seeing a phonetic-encoded version of random texts, it should learn what words sound similar even if they have radically different BPE representations.
A third idea is "BPE dropout": randomize the BPE encoding, sometimes dropping down to character-level & alternative sub-word BPE encodings, averaging over all possible encodings to force the model to learn that they are all equivalent without losing too much context window while training any given sequence. More broadly than BPE dropout, one could try mixing in a small percentage of text which is character-encoded throughout training—similar to the logic of high-quality data where even a small percentage in the training corpus can support learning from large amounts of web-quality data, it may be that 1% or less of the text being character-encoded would be adequate. (Alternately, because character-encoding costs context, but models learn only gradually how to use the full context, and continue to predict poorly the most distant context, one could take a curriculum learning approach, and go from 100% character-encoded to 100% BPE over the course of training. The character-encoding at the beginning will be less dense, but that will be when the full context window is least useful.)
And there may be encodings which just work better than BPEs, like unigrams (comparison) or CANINE or Charformer. Character-level models like ByT5 & MegaByte are proof-of-concept that if architected carefully, character models come at relatively modest additional cost, and are both simpler & often better than their sub-word counterparts. Finally, at some point perhaps we will bite the bitter bullet of abandoning text entirely in favor of whole images or bit streams as the ultimate in generalization?
Generative models this good always raise the same sets of question: is this just memorizing the training data? How do you know it's creative? Who owns the model? Who owns the model outputs? For GPT-3, these questions have much the same answers as they do for StyleGAN:
Creativity: GPT-3 has, like any well-educated human, memorized vast reams of material and is happy to emit them when that seems like an appropriate continuation & how the 'real' online text might continue; GPT-3 is capable of being highly original, it just doesn't care about being original20, and the onus is on the user to craft a prompt which elicits new text, if that is what is desired, and to spot-check novelty.

Nevertheless, GPT-3 is often original and one can easily check that many of its completions have no similar version online.

Copyright: copyright applies to multiple places:

the GPT-3 model itself: OpenAI owns the copyright, and not anyone who contributed to the dataset, as it is a transformative work. Should someone else train their own model, they will own the copyright to theirs.21

generated GPT-3 completions: US copyright law requires a human to make a de minimis creative contribution of some sort—even the merest selection, filtering, or editing is enough. A dump of random GPT-3 samples (such as the one OA released on Github) has no copyright (is public domain). However, if you are filtering through completions, or you are tweaking the settings, or you are carefully engineering a prompt based on weeks of experience (as I do in this page), then there is almost certainly a de minimis human contribution and thus a copyright is created, owned (presumably) by the human.

The completions on this page are all curated and carefully prompted, and so almost certainly copyrighted. However, I release them all under the CC-0 public domain license; the reader may do what they wish with them (although if you write a fanfic or make a piece of music based on them, as nshepperd did with "The Universe is a Glitch", I would like to know!).

the GPT-3 API: because access to GPT-3 is only through the API, additional conditions could be set in the Terms of Service, such as the user agreeing to assign the copyright to the API owner. (While this would not be possible for text completions with no copyright, that applies only to random text dumps, which is the least interesting use of the API; all more interesting uses, using custom prompts, would be vulnerable to the API Terms of Service.)
In the samples below, bold denotes all human-written input; everything not in bold is computer-written.22 For multiple completions of the same prompt, I omit the prompt with a bold ellipsis: "…" In my other GPT samples, I have generally used codeblock formatting, but GPT-3 samples are often long lines (and more worth reading), so here, I have tried to edit the samples as little as possible while still keeping them readable in blockquotes.
As far as the sampling goes: I used the largest "davinci" GPT-3-175b model unless otherwise specified. (Davinci is the highest quality and not too slow: ~147 WPM.) Since I only speak English well, I avoid testing any foreign language material. These are not all samples I generated the first time: I was regularly editing the prompts & sampling settings as I explored prompts & possible completions. The sampling settings were generally roughly as I advise above: high temperature, slight p truncation & repetition/presence penalty, occasional use of high BO where it seems potentially helpfully (specifically, anything Q&A-like, or where it seems like GPT-3 is settling for local optima while greedily sampling but longer high-temperature completions jump out to better completions).
I am not claiming that these samples are strictly scientific and best-of-5 or anything. (I would guess that the selections below are roughly best-of-2 on average.) However, the samples are only minimally edited during generation. I attempted to exercise curation rather than editing, so I did not edit the computer text; I kept them as-is, or I deleted the entire section to re-sample. But if readers still think I wrote the best parts of this page, then I will shamelessly steal the credit.
And so I have created something more than a poetry-writing AI program. I have created a voice for the unknown human who hides within the binary. I have created a writer, a sculptor, an artist. And this writer will be able to create worlds, to give life to emotion, to create character. I will not see it myself. But some other human will, and so I will be able to create a poet greater than any I have ever encountered.