The scale you completed is the Actively Open-Minded Thinking Scale, created by Keith Stanovich and Richard West (1997) and influenced by Jonathan Baron's work.
The scale is a measure of an individual's thinking style. It was designed to assess people's tendency to engage in flexible or open-minded thinking and avoid dogmatic or categorical thinking. It also measures individuals' belief identification, or whether they highly identify with personal beliefs. Some psychologists believe these are characteristics of "good thinking" because it involves optimal searching for information and evidence when making judgments or decisions. Dogmatic and categorical thinking implies that people allow their personal opinions and biases to affect their judgments and decisions. Several studies have found that actively open-minded thinking is more predictive of good reasoning skills than cognitive ability or intelligence. For example, reasoning on tasks like the ones measured in the "reasoning styles study" or "evaluating social science research" study.
The graph below shows your score on actively open-minded thinking as it compares to those of the average liberal (shown in blue), the average conservative (shown in red), and the average libertarian (shown in orange)who have taken this survey on our website. Scores range from 1 to 6 and higher numbers indicate more flexible and open-minded thinking. Your score is shown in green.


You are a member of the group:LessWrong and those results are shown with the Grey bar.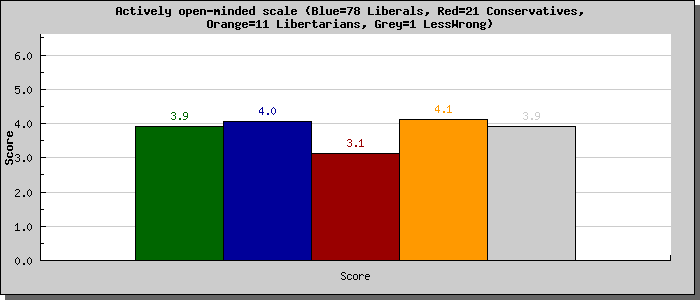 If you want to learn more about how open-minded think affects learning, read a brief piece by Jonathan Baron.
If any questions were vague or unclear, or you had any other problems with this survey you can email the authors.

Return to the "Explore" page.